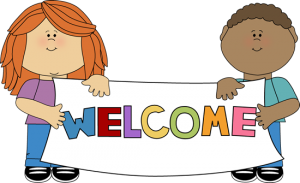 Dear TK Families,
I am so excited for this new school year and the memories that we will share together! This is my "weekly newsletter" that I will be sending home, it's a great way to keep in touch and be informed with specific TK news and information.  I print the newsletter and send it home in your child's communication folder every Friday and at the beginning of the month I send home a calendar, a digital version of the calendar can also be found on my website. 
Just a heads up, the church is being remodeled and parking is CRAZY around our school! Please plan for extra time to look for parking, especially on the first day of school. 
Drop off/pick up: We ask that you walk your child to the TK classroom door for drop off and dismissal will be in the Junior Yard across the street at 12:30 (3:00pm after the first week). It's really important that you DO NOT take your child from our line, if you see us crossing the street or from the classroom, for multiple reasons but a few being: I am trying to teach the kids how to safely cross the street and I want to make sure everyone is accounted for- it can get chaotic at dismissal. In addition,  DO NOT enter the TK classroom before school, I will open the classroom doors at 8:00am to let the students in. Please wait until I have opened the doors, in previous years, I have had students get dropped off without a teacher in the classroom and I can't have that happen, thank you for understanding and it's also my last few minutes to get things done in the morning; unless of course we have scheduled a meeting. 

I know it can be hard to say goodbye to your "babies" but I want to let you know they will be in GREAT hands here at SMA, we have a friendly and loving staff. Please feel free to stay for a few minutes on the first day, I will have a small activity to help with a smooth transition but if you prefer to drop off that is great too.  

Supplies: If it's too challenging to bring supplies on the first day of school, you are more than welcome to bring them on the second day. I will leave a wagon outside of our classroom so you can drop them inside, at any time.  Please remember NOT to label any supplies and if you have questions about the supplies, I would be more than happy to help. Thank you for supporting me and helping to stock our classroom for the greatest level of learning! 

Please feel free to reach me at any time through email. I look forward to this school year, I know it's going to a lot of fun. 
Thank you for trusting me with your children and thank you for being their first teacher.
God Bless,
Ms. Doesburg
**This was sent as an email, if you DID NOT receive it on Wednesday, August 23, please email Ms. Doesburg cdoesburg@stellamarisacademy.org so I have your correct email address. Thank you!